Australian funeral trends are changing. Cremations have overtaken burials in Australia, accounting for about 75% of deaths. Even before COVID-19's funeral restrictions, 22% of those were cremations only, without an accompanying funeral service. And those trends are growing quickly each year because people today are well informed, price-conscious, non-traditional and more environmentally conscious.
Almost three quarters (73%) of Aussies say they don't want to be farewelled with a church or religious ceremony, according to a recent study by Australian Seniors. Consequently, there's been a huge shift away from traditional funerals, as more people consider cremations only, without a formal funeral service.
This article explains what's involved with arranging cremations only and lists the benefits of a non-attended funeral. It aims to help Australians make a more informed choice about the funeral service option that best suits them, their loved ones and their budget.
We will also provide some tips on planning a more personalised memorial or celebration-of-life as an alternative to a traditional funeral service.
What are cremations only?
Cremations only, also known as direct cremation, are non-attended cremations without an accompanying formal funeral service.
Consequently, when you're paying for cremations only, you're generally paying a fraction of the price a traditional funeral service costs. As a result, this no-frills, more affordable option doesn't require a funeral director to be involved in the funeral service.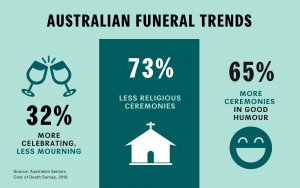 What are the benefits of cremations only?
The benefits of arranging cremations only, without a formal funeral service, are predominantly their affordability and freedom to organise a more personalised memorial service or celebration-of-life after the cremation takes place.
Funeral restrictions during the coronavirus pandemic forced many families and friends to reconsider their options to farewell someone they love. As a result, many Australians have realised they don't actually need to spend $15,000 on a traditional funeral service and potentially go into debt paying it off, if that's not what they or their family want. Traditionally, funeral options have been limited in Australia for decades, but the industry is changing to meet shifting trends.
Cremation cost without a funeral service
A direct cremation with Bare is a simple and affordable cremation option without compromising on the level of service.
Traditional cremations are typically co-ordinated by a funeral home. The average price of a traditional cremation in Australia is $7,420, according to Gathered Here, but more elaborate funerals can cost upwards of $15,000. For the price, funeral directors generally offer large service packages that include a list of add ons like overpriced catering, expensive coffins and flowers. In contrast, a direct cremation with Bare Cremation averages around $2,500 (price differs depending on location).A direct cremation is a more straightforward and cost-effective alternative to a traditional funeral service. With cremations only, you're generally only paying for what's needed including: transportation; the cremation; death certificate, registration and other paperwork; and the return of ashes to the family or Next of Kin.
These days, Australians don't want churches, candles, wreaths, or overpriced sandwiches. So why are we forking out thousands on stuff we don't need?
Direct cremation allows a more personalised farewell
Aside from being a more affordable funeral option, a direct cremation allows families to take the time to plan a more personalised farewell for their loved ones after the ashes have been returned to the Next of Kin. As a result, it removes the pressure on grieving families and friends to plan a funeral in just a few days.
The options are endless when it comes to planning a memorial after a direct cremation. With the money saved, family and friends have the flexibility and budget to farewell their loved ones in a way that truly celebrates their unique life. It could be a meal at their favourite restaurant, a backyard barbecue, a tree-planting ceremony, or a beachside scattering.
Final thoughts on cremations only
We hope this article helps to provide a better idea of the benefits of cremations with out a formal ceremony and how a direct cremation differs from a traditional funeral service.
At Bare, we are passionate about giving Australians the choice when it comes to planning a funeral. Pay only for what you need, not for stuff you don't want, and arrange a send-off that truly celebrates life in the way it was lived. Let us help you say the perfect goodbye by providing a quality cremation with a high level of dedication and compassion.
Arranging a direct cremation with Bare is simple and can be done in just minutes, whether you're arranging a funeral for an imminent or immediate need, or a prepaid funeral. Thousands of Australians are arranging their prepaid funeral in advance, to save the financial and emotional stress on their family and friends later on.
To arrange a cremation with Bare, or to get a quote, visit the Bare Cremation website. For an imminent-need cremation, call 1800 071 176. To prepay, call 1800 202 901.
You might also find the following articles useful: